People, in general, want to disable laptop keyboards due to some unpredictable incident that has already taken place and many may find it difficult or users often get confused as to how to disable the keyboard on laptops. Turning off your laptop keyboard could be a little determining but it will be simple for you to understand if you get the information and instruction in order. Wanting to lock your keyboard could have many reasons and we have come up with the ultimate solution to fix your issue.
For all the OS such as Windows, and Linux, we have come up with a solution on how to disable keyboards on laptops for each Operating system and versions using different options.
Social Interactions
@MicrosoftHelps I have a acer laptop running windows 10. When ever I click the Caps Lock key on my keyboard there is a notification popup right in the middle of the screen of a lock. I would like to know how to disable this. Please help!

— Samizy? (@Samizy6) December 7, 2019
so i bought a keyboard for a pc I wanna buy sometime. i'm using it now cuz ellie likes to lie down on my laptop keyboard, and she's pretty stubborn about it.

is there any way to lock/disable my laptop keyboard? i tried to disable it through device manager but it didnt work.

— Bruno (@BuruBruno) August 17, 2019
How to Disable Laptop Keyboard on Windows 7, 8 & Windows 10 using Device Manager
Here is how to do it:
Head to the Start Menu in your computer and search for

Device Manager

When the windows appear open the device manager and select the

Keyboards

and click on the arrow which is on its left side.

Now when seeing the

"Keyboard device",

make a right-click and press on

Uninstall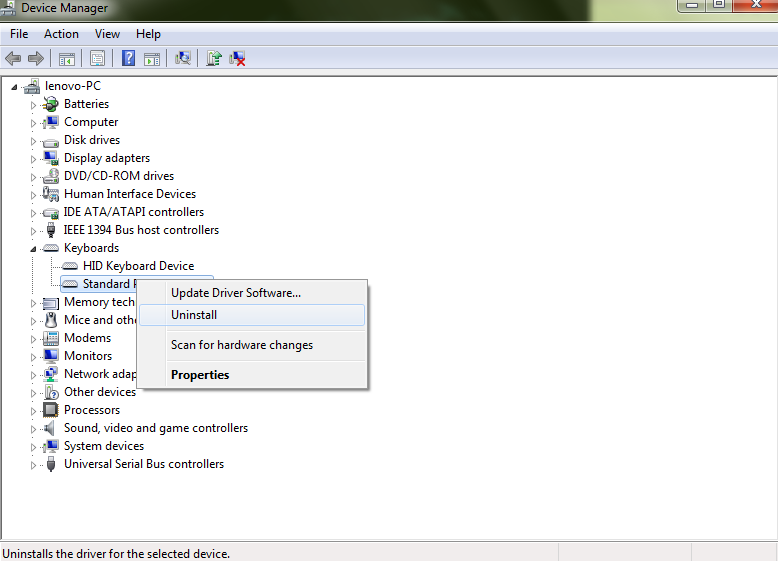 Now you have to restart your laptop to make it permanent and if you turn it on then your system will automatically reinstall the keyboard drivers on your behalf. 
How to Disable Laptop Keyboard in Linux?
This may sound tough but it actually is not. Please follow the instructions to successfully disable your laptop keyboards for Linux OS.
Here is how to do it:
First, attach a USB keyboard with your laptop.

Head on to open a terminal and then run 
xev -event keyboard
           It will come up with different pop-ups and stuff, you need to ignore those and take the second step
Now select and press the key combination you want to disable. The data in the screen will automatically change and the next thing you have to figure out is the

keycode

value.

Once you have got it, run the given command, changing

<value>

for the value you gathered for the

keycode

.
xmodmap  -o 'keycode <value>='
For illustration: If you want to disable the  ~  key  (Shift+ `), then you have to run the command
xmodmap  -o 'keycode  49 = `
If you want to permanently disable the keyboards for Linux Mint, then follow the specified instructions
The first step is to list the devices that your X sees :
xinput  - - list                                                

"Virtual core pointer"     id = 0 [XPointer]

"Virtual core keyboard" id = 1 [XKeyboard]

"Keyboard2"       id = 2 [XExtensionKeyboard]

"Mouse2"           id = 3 [XExtensionKeyboard]
Now you can disable your keyboard from your laptop 
Just write   
xinput  set - int - prop  2 "Device Disabled" 8   0
Now you have successfully disabled your laptop keyboard in Linux.
How do I Disable my Laptop Keyboard in Windows 10 using the Group Policy Editor
The only way to stop your laptop from reinstalling your built-in keyboard every time you turn on your computer is by using the Windows group policy editor. Come let's check out how to do it:
You have to click on the

"Windows button + R"

button

and type in "gpedit.msc",

and choose

OK.

Secondly, just head to the

Administrative Templates

>

System

>

Device Installation

>

Device Installation Restrictions.

Now among the list select

Prevent installation of devices not described by other policy settings,

right-click on it and press

Edit.

Once done, select

Enabled

and then choose to

Apply

and select on

OK.  Now close the Local group policy editor when you are done.

Now again click on

Windows Key+ X

and go for the

Device Manager.

Select

Keyboards

for more options.

Now go to the keyboard icon and make a  right-click on the

Standard PS/2 Keyboard

and then choose

Uninstall Device

and then

Uninstall.

A pop-up will appear on your screen, asking for Yes or No, just select

"Yes"

and you are done.
Note: Available for Windows Pro users and Windows Enterprises users
How do I Disable my Laptop Keyboard by Updating the Incorrect Driver?
Although updating a device with an incompatible driver can be a little eccentric but in this case, it is one of the solutions to disable your laptop keyboard. If your laptop keyboard doesn't find any compatible driver to run with it will definitely stop functioning and that's your sole job here.
Note: Most Effective Solution
Here is how to do it:
Head to the

Device Manager

in Windows  

Choose

Open

when the Device Manager option appears.

Now slowly scroll down and click on the left of the keyboard to expand the options

Make a right-click on the

Keyboard Standard PS/2 Keyboard

and just select

Update Driver.

Now find the driver software on your computer by selecting

Browse my computer for driver software.

Once done, select

Let me pick from a list of available drivers on my computer.

Now choose

Show compatible hardware

to uncheck it.

It's time to scroll down and select a manufacturer ( different than your keyboard).

Choose a model name and then click on the

Next option.

Now when the dialog box appears on your screen, select

Yes.

Click on

Close

once you update the driver.

A screen will appear asking whether to restart or not, press on

Yes

to restart your computer.

After your computer reboots, the built-in keyboard won't function. And to re-enable your keyboard again, select

Update Driver

via the keyboard section in your device manager.

You have to choose

Search automatically for updated driver software

.

And now select

Close

.
You have successfully disabled your laptop using an incompatible driver.
How to Temporarily Disable Keyboard on Laptop in Windows 10?
If you want to temporarily disable your laptop keyboard follow the instructions given below: 
Press

Windows + X

and select

Device Manager

from the list. 

Search for the

Keyboard

option among the list of devices and click the arrow on the left to expand the options.

Hit right-click on the internal keyboard icon and do not forget to click on the

Disable

option. If you don't get a Disable option then just

Uninstall it.
Or you can use a Keyboard locker to temporarily disable your keyboard
To go ahead you need to download Keyboard Locker. If you wish you can unzip the Keyboard Locker folder to keep it on your hard drive and open the keyword locker folder. There will be several files, and 2 of the most crucial files are "KeyboardLocker.exe" and "KeyboardLocker.ahk".
Once the download is complete, run the "KeyboardLocker.exe" by double-clicking it.

After it is launched, a small keyboard icon will appear in your notification area and which means it is now absolutely ready to use.

You can lock your keyboard by pressing together

Ctrl+Alt+L

and once it is disabled the keyboard locker icon will automatically change and indicate that the keyboard is locked now.
You have successfully disabled your laptop keyboard temporarily. All the keyboard functions including the num lock, caps lock and other special keys on the keyboard are disabled now.
How can you disable keys on your keyboard?
If you want to disable keys on your keyboard you can use Simple Disable Key. It is a very efficient tool and very simple when it comes to disabling the keyboards.
First, download the free tool Simple Disable Key

When the download is complete, launch the program.

Once it is launched successfully, choose the field labeled key.

Now select or press the keys you want to disable 

You will have an option to

Add Key

.

Choose whether you want to disable the key in specific programs or at certain times.

Once you select your function, press

OK.
Congrats! You definitely have disabled your key from your keyboard successfully.
Wrapping things Up
Rendering you with all the methods on How to disable laptop keyboard was a sole priority. There are many users who have been trying to disable their laptop keyboard but could figure out how to do it. Hope one of all the above-mentioned steps works out for you. You can try out yourself to disable your laptop keyboard and let us know if it helps.