The core Windows Users already know that Windows 10 is the last version from Microsoft and this has been officially announced. Instead of developing a new version of Windows, they will dedicate their time and resources to develop and bring more new powerful features under software updates.
Windows still remain the most popular operating system for desktop and laptop in the world.
Stop expecting a surprise from Microsoft as there will be no Windows 11 or 12 and this has been confirmed by Microsoft itself.
If you want to use Windows 10 free of cost you have come to the right place. Because the free version of Windows 10 will officially expire on 20th September 2019 the upcoming Friday.
We will guide you "Step-By-Step" on How To Activate Windows 10 for free with a digital license and a product key.
Social Interactions
Not able to activate Windows 10 pro plz help

— R@∆∆ (@Dherya1010) December 6, 2019
Before I spend a few hours doing it, does anyone know if I use Packer to create an image based on Windows 10 Enterprise, and then image a device with a Windows 10 Pro OEM key in UEFI? Can I get it to activate as Pro?

— Tony @ Setec Astronomy (@tony_bridges_el) December 12, 2019
Windows 10 Free Upgrade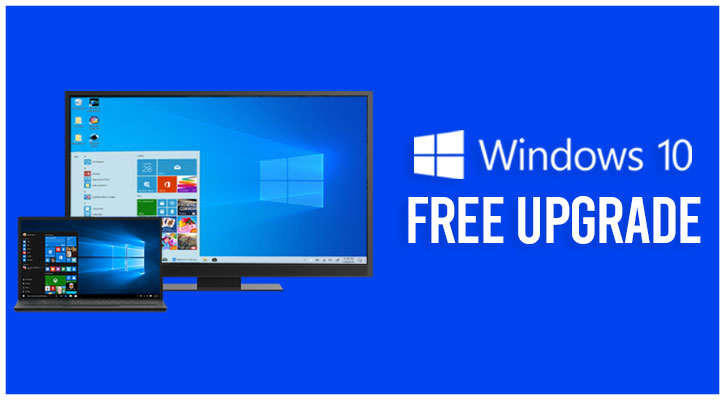 The official associate of Microsoft confirms that Windows 10 is an absolutely free upgrade for all the customers who are using a Legit copy of Windows 7 or Windows 8.1. 
You have very little time, so don't leave the chance to have the original version of Windows 10 for free.
After expiry, the Upgrade is going to cost you around $119 for the Home Edition and $199 for the Professional one.
So, you better Hurry Up!
How to Activate Windows 10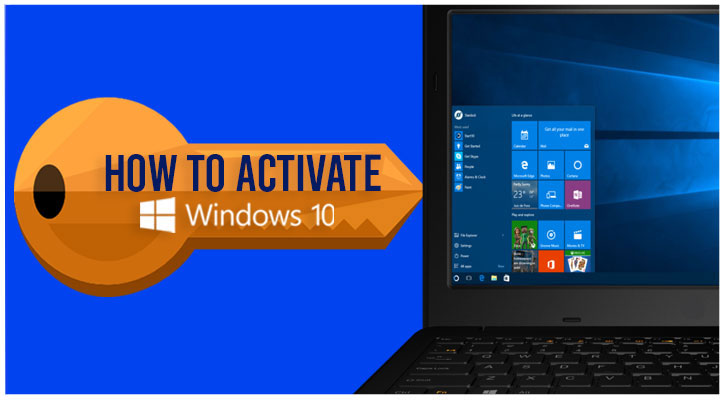 First, it is very essential for you to check first if the Windows you use is linked to your Microsoft account or not. So, if not make sure that you link your account to Windows 10 license on your PC. This would help you in the future if you ever change your hardware. Later this digital license will help you to reactivate Windows using the Activation troubleshooter.
Methods of Activation 
There are 2 types by which you can activate Windows 10 for free. Without these, you won't be able to activate the original version of Windows 10.
The first method is using a digital license (version 1511). It is a simple method that would not require any product keys.

The second method is to use a Product Key. It is a 25 character code that is used to activate windows if you don't have a digital entitlement in Windows 10.
How to Activate Windows using Digitial License?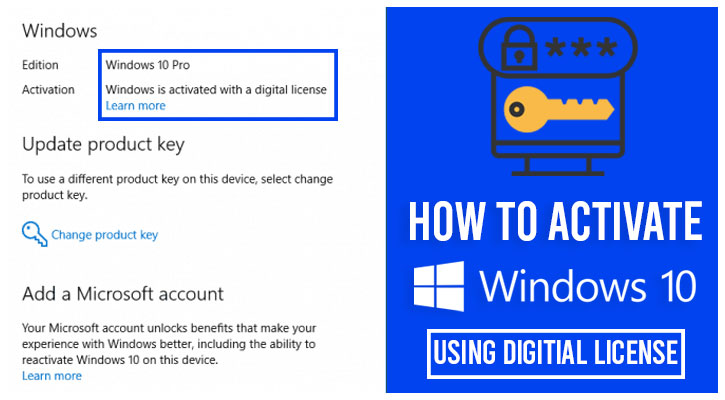 Digital licenses are basically linked to your Microsoft account and are entirely related to your hardware.
First-time installation and New Activation
This is very easy if you already have a digital license that is linked to your Microsoft account.
Just run "Set Up" and skip the product key option by selecting " I don't have a Product Key".
You will just have to sign in with your Microsft Account and it will activate on its own.
Tips: How to Link your Microsoft Account
How to Activate Windows using a Product Key?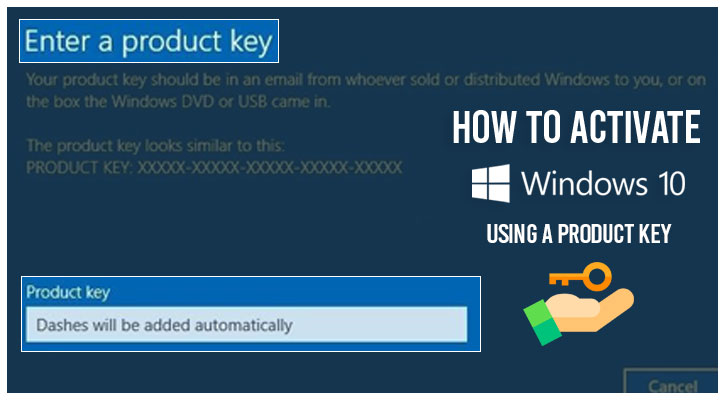 As you already know by now, a product key consists of 25 character code 
PRODUCT KEY: XXXXX-XXXXX-XXXXX-XXXXX-XXXXX
While you try to install, you will be notified to enter a product key OR  it may also ask after you have installed Windows 10.
Now just choose the Start button.
Then select Update & Security > Activation > Update Product Key > Change Product Key
If you already own a product key, then you can go for Change product key to activate Windows 10 in each of the probable cases given below :
Information that could help you to Activate Windows
Installation for the first time and activating Windows on a new motherboard or a new PC

Activating after reinstalling Windows 10

Reactivation of Windows after a change of hardware
❝Important Note: If you have previously purchased a product key from the Microsoft online store, you can confirm by checking out your order history in your Microsoft account.
Now if you are thinking of locating your product key, please read the instructions given below
Locating Product Key for Windows 10
Locating your product key depends on how you have got Windows 10. There are few instances which are given below and you could have gotten your key form one of the scenarios.
How you got your copy of Windows 10
For a new PC running Windows 10
In this case, the product key is already installed on your PC. You could have gotten it with the packaging or could have got it from Certificate of Authenticity (COA) attached to the P.C.
For free Upgrade to Windows 10
In case your PC has upgraded to Windows 10 from Windows 7 or 8.1, it is definitely running on a digital license. Thus, you won't be needing a product key here.
For a digital copy of Windows from Microsoft Website
If you have bought a digital copy from the Microsoft website, then you have gotten it with the confirmation mail that was sent from their end.
In conclusion
I hope you have successfully installed Windows 10 on your PC.
If not just Hurry Up!
Because 20.9.2019 will be the last date till you get a Free version of Windows 10.