Overview
Mitrasphere is role-playing from the famous game developer Crunchyroll Games, LLC. It is recently released for global players. It is a multiplayer game and has unique gameplay. It includes five classes of characters and players can switch between these classes. It has real-time battles and the players can customize their characters in this game. The game has a fantastic story for players and they can enjoy this game. This RPG game can be downloaded on any Android and iOS device. You can also Play Mitrasphere on PC by using Android emulators.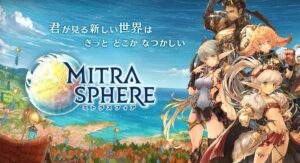 Classes Guide
Mitrasphere is a new role-playing game and it is released for global players recently. This game has role-playing gameplay and it includes a lot of characters. Mitrasphere is new for global players because it was first released for only Japanese players and the global players do not have a complete idea about its mechanics, gameplay, characters, Reroll, etc. Therefore these players are confused and looking for a complete guide especially for its characters and reroll methods. There are five different classes of characters are available in the Mitrasphere game. The players need a complete explanation for these classes so that they will be able to choose the best characters for their team during team building. It is not difficult to understand these classes and all the classes are simple to understand. The players can understand the features of characters from their relevant class. In this way, they can choose the best characters and can build a unique and powerful team. In this article, you will get the complete class guide for Mitrasphere role-playing game. So this article is very important for new players.
Guardian Class
As mentioned in the name of the class, this class is famous for protection. It can protect its team from enemy attacks and it utilizes many weapons for protection. Along with protection, it is also an attacking class. The characters of this class are equipped with Sword and Shield. They can also use other weapons like Battel Axe, Spear, and Magic Device. They are experts in Sword and Shield handling and protect their allies by forming a shield around them. This class includes four-star legendary, three-star rare, and two-star super rare characters. All these characters can perform different tasks and protect the team in many ways. Pick the Legendary characters of this class if you can.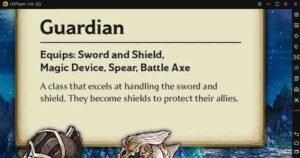 Mage Class
The Mage is also considered a superclass of the Mitrasphere game. The role of this class is different from the Guardian class. This class can perform multiple tasks and uniquely fight against enemies. This class is equipped with staff and magic devices and also can use Magic Cannon and Scythe weapons. This class is expert in handling staff and perform the great role. This class has a unique ability to gather Dragonkin power quickly. The characters of this class are also famous for powerful attacks unleashing. This class also has Legendary weapons in its tier list like Bronze Baton, Earth Rod, Dark Cane, etc. The Super rare and rare weapons are also included in this class for better performance.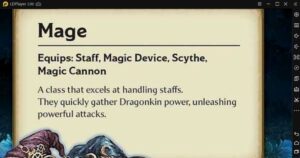 Cleric Class
The Cleric is also a support class of Mitrasphere. It is famous for its healing abilities and can increase the HP of its allies. This class is equipped with multiple types of equipment like Mace, Scythe, Magic Device, and Spear. They are specialized in maces handling and expertly rescuing their team on the battlefield by using their healing abilities. It can give full support to its team and help them to heal quickly. Bishop Bottoms, Bronze Spike, Earth Club are the legendary weapons of this class. Also, super rare and rare characters are available for players.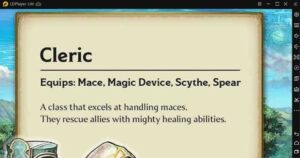 Swordsman Class
It is the most popular and famous class of Mitrasphere. Its name indicates it's a feature. It is a powerful class and damages the enemies in several ways. It can use multiple weapons. You can equip this class with Greatsword, Batlle Axe, Dual Magic Device, and Magic Device. The main weapon of this class is Greatsword and it is famous due to this weapon. This class is an expert in Greatsword handling and it performs multiple roles. This class can enhance itself and also this class is famous for attacks. It has the skills for unleashing physical attacks. It can serve your team as a Frontline class.
Archer
The Archer is also the best class of support in the Mitrasphere game. Archer class can uniquely support its team members. This class is equipped with Bow, Dual Magic Swords, Magic Device, and Magic Cannon. This class is an expert in the handling of Bows. The main role of this class is to support the allies. This class has a variety of skills to support allies. They can attack enemies by using magical swords and also deal with great enemy damages. Archer classes include Legendary, Super Rare, and Rare weapons and the players can use the characters of this class for better support.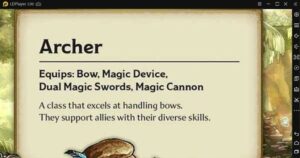 How to Play Mitrasphere on PC?
Mitrasphere is new for global players and the players want to know that can they download and play Mitrasphere on PC because most of the players know about the benefits is PC gaming. There are also some disadvantages of smartphone gaming and players love to play games on PC. The players can play Mitrasphere by using Android emulators. You can download and use any Android emulator for this purpose but the top Android emulator is LDPlayer.
What is LDPlayer?
It is an Android emulator and the players can use it free for PC gaming. LDPlayer is advantageous for players due to its awesome features and lighter weight. It has unique and quality graphics to entertain PC gamers. It updates its features regularly and players can download all games in this Android emulator. You can use it for safe PC gaming.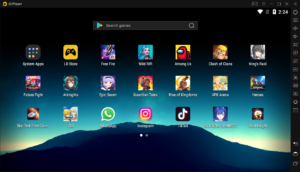 How to download LDPlayer?
It is free and you can download it by following method.
Go to the official website of LDPlayer and tap on Emulator.
Click on the download button and wait for downloading.
Then install LDPlayer on your PC.
Launch the app and download it to play your favorite game on PC.